Don't Let 2017 Become a Question Mark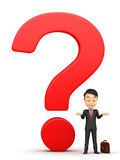 Are you ready for 2017? As an employer or a plan sponsor, do you know what you need to do to become compliant or remain compliant with the regulations that govern Retirement Plans and Health and Welfare Benefits? Does your Executive Compensation plan satisfy the complex rules related to Code 409(A)? Do your compensation arrangements attract and retain top executive talent? Does your business comply fully with Affordable Care Act rules? (Yes, ACA is still in effect.) Are you fully aware of the penalties associated with missed deadlines and failures to file required documentation with the government agencies that monitor compliance?
Plan sponsors have many questions about ERISA and Employee Benefits, and our ERISA attorneys work proactively to ensure that our clients can answer YES to the questions above. If you answered NO to any of the questions, it may be in your best interest to speak with a qualified ERISA attorney. To do so, send an email to David Hall at dhall@hallbenefitslaw.com to learn about our consultation process.
---